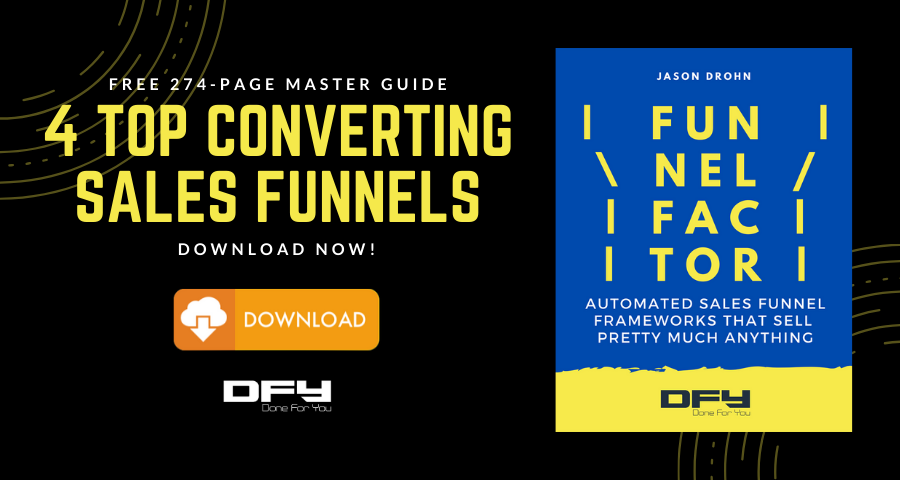 UPDATED FOR 2021:
If you're not using marketing automation workflows to advance leads down your sales funnel, it means you're missing out on some major income opportunities. You can use marketing automation to nurture and engage your existing email subscribers on autopilot.
You don't need to leave your contacts sitting dormant in your email marketing service because of a lack of time. Now that marketing automation is incorporated in most email marketing platforms, like MailChimp, you can set up email workflows that will do the work for you.
There are 7 main types of email automation workflows. Each of these categories can have a lot of variations, depending on the industry and business goals, but here are the basic email autoresponder sequences.
First, though, let's talk about what a marketing automation workflow is and how it can be used...
Marketing Automation Workflows Explained
Marketing automation workflows and the things that a marketing automation agency will set up are what will generate revenue for your business faster and more consistently than pretty much anything else. Plus, it'll be a little bit more hands-off and headache-free.
Here's what I mean. Somebody comes to your website and they are there for a reason... Whether they are filling out an application, signing up for an appointment, or they want more information about your products and services...
They're there for a reason.
A marketing automation workflow lets you send out marketing in a very structured, very systematic way. When somebody fills in an opt-in form because they want access to a lead magnet or download that you offer on your website, you get their email address... That email address is added to your email marketing list.
Now, with that email address, you're able to market to them. And we'll start by sending them a welcome email sequence. In that welcome email sequence, you can talk about yourself, your business, your team, why you do what you do and why they should work with you in the future.
Getting Started In Your Marketing Automation
The point with a welcome automation email sequence is that you want to introduce yourself. You want them to know a little bit more about you. Keep in mind though, with the right marketing automation workflow, you aren't physically hitting the buttons on your keyboard to send these emails. You're assistant isn't sending each email to each lead who signs up, all from their Outlook account... You have a piece of software, something like Axis CRM that does all of that for you.
That's the importance of marketing automation! All of your outbound marketing activity should be happening for you behind the scenes. You don't have to think about it and it's all handled in a very systematic way. All of your emails, text messages, tasks, and triggers are hitting the contact record without you needing to press a single button.
What that lets you do is warm that person up to do business with you!
Keeping Contacts Grouped Together In Your CRM
Now a vital piece is that you segment them into different buckets.
Every action your prospect takes could send them down a different path in your marketing workflow. So whether they:
Fill out a survey a certain way
Download one report and not the other
Go to one page and not the other
They're engaged in your marketing or not
Those are all different ways that you can segment your email list to make your automation work.
If somebody fills out a form and says they're interested in landscaping but yet you're trying to sell them interior design, that doesn't work. Or if they're opening every email you send, but the system puts them in a re-engagement sequence...
These are all different types of segmentation that you want to pay attention to in setting up your marketing automation.
Keeping Sales Automation In Mind With Workflows
The same is true with sales automation. When you are actively trying to sell a product, service, mastermind, coaching program, consulting program, or a physical product; you want to make sure that your marketing automation doesn't overlap each other.
Here's what I mean.
Let's say you're doing a big promotion like a Memorial Day sale.
You lead up to the Memorial Day sale with a couple of emails linking to your storefront or your offers, with the special pricing. Now, the promotion usually goes on for three or four days with the big push towards the end. Your entire marketing focus should be on the Memorial Day sale! So you don't want to then send an email or text that doesn't have anything to do with the promotion! You don't want your customers to be thrown off track. All you want them thinking and buying because of the sale - not entertaining some new offer.
Another thing about sales workflows - there are different stages you need to be aware of.
If you're selling on webinars, you have a webinar promo email sequence AND a webinar replay email sequence. Then once somebody has watched the webinar replay, you send them a very concise call to action that gets them to take action on that offer.
And if they don't take action then, you give them a couple of days' break and then you send another very concise set of emails to either try to bring them back or you move on to the next promo...
Nurturing Leads On Autopilot
Another big marketing automation workflow that you need to have in place is lead nurturing.
We talked about this a little bit with a welcome sequence. Lead nurturing is where you introduce yourself, your team, your services, and your offers. You talk about some of the great things you did. Maybe you throw out some case studies. And you talk about all the different reasons why this new prospect needs to do business with you.
Automation Workflows For Upsells And Cross-sells
When it comes to upsells, downsells, and cross-sells; your marketing pages do a lot of the work. But what happens if someone doesn't take an upsell and it's into a one-time offer?
Well, for these types of special transactions, you want to put them in a marketing automation workflow that then sells them the next thing in the process!
They come in and buy an Ebook, then they are up-sold into the video course... If they don't take it, they should get emails telling them to make the purchase!
Or, if they come in and buy the video course and they are up-sold into the mastermind or coaching program... They should be prompted through email to complete the transaction!
There are lots of different things you can do with upsells and cross-sells, but marketing automation will handle all the heavy lifting if you set it up the right way.
Marketing Automation For Re-Engaging Your Email List
When it comes to re-engaging your list, you need to send something catchy and oftentimes free to get them to re-confirm that they're interested to receive emails from you.
If somebody hasn't done anything with you (ie. opened an email, visited your website, clicked a link, etc) in 60 days or more, you want to send them something automatically from one of your marketing automation workflows... Think of it as a last chance offer.
You need to send them an email that says:
"Hey, where are you at? Do you want to download this report?"
"Come visit the website, we have this great sale going on."
"Here's 20% off, we miss you."
If they come back, they're successfully re-engaged... Which means they're hot on your list again.
However, if they don't, then you would just delete them out of your CRM because they just don't want to be bothered anymore. They've moved on.
Marketing Automation For New Customers
Onboarding new customers is another great place for marketing automation workflows.
After somebody buys from you, what happens?
When somebody purchases a course or a coaching package, what else do they need to know?
First of all, they need to be thanked, of course, but then do they need additional training? Do they need to see a welcome video? Are there calls to be scheduled? Is there a course that they need to log into?
That's that customer onboarding piece! You want to make sure they have a great experience with your company.
Marketing Automation Workflows Examples
1. Welcome Email Sequence
The welcome workflow is sent to all brand new email subscribers. It is sent only once, so even if someone opts in for a different freebie down the road, they won't get the welcome sequence a second time. This workflow is designed to welcome new subscribers only.
You don't want your new contacts to forget you soon after they sign up. With the welcome sequence, you instantly give a brief orientation and say more about your brand. You should also use the welcome email to get them involved and reinforce the relationship.
The welcome email sequence doesn't need to be too long. Three or four emails are adequate.
2. Segmentation / Engagement Sequence
This is one of the most important types of marketing automation workflows. It is often neglected but if you set this one up you will be delivering ongoing value to your list over the long-haul. Instead of running a promotion to your general list, you'll be able to send laser-targeted content to those who are interested.
If you keep people in segments then the chances are that you can keep them engaged as well.
See, you want to place your leads into little buckets so you know what their needs and interests are.
You can segment people according to the:
After you place them into a bucket, then follow up accordingly with relevant content and promotions.
3. Sales Automation Workflow
The purpose of the sales sequence is to make a sale. It is a product or service promotion, essentially. It is designed to make your leads into paid customers.
You don't want to send your sales autoresponder sequence to everyone on your list. You will get better results if the sales workflow is delivered to a segmented and highly-engaged list.
The success of the sales email sequence depends heavily on how well you've set up your segmentation/engagement sequence.
For example, right after a new subscriber opts in for a particular lead magnet, you know that they're interested in that kind of content. The new lead would be presented with a low-priced offer. If they don't click or even open your email you can try a different type of offer, to see if another segment would be a better fit. When they open or click, the actual sales sequence is triggered and it runs until they purchase.
Looking to promote a Flash Sale? Use this four-part email autoresponder sequence, that you can plug into your email service, to close your next sale and make a profit. And here's a preview of how it works:
4. Lead Nurturing Sequence
The whole idea of email automation is to move the new subscriber further down your sales funnel automatically. After they have expressed interest in what you do, by downloading the lead magnet, you want to nurture your leads into customers. In essence, that is your ultimate goal, isn't it?
So, you want more sales. Potential customers need time before they know you, trust you, and decide to buy. The good news is that you don't need your sales reps calling people all the time. Instead, automate the lead nurturing process by setting up a marketing automation workflow.
Using workflow in your email marketing software means that you craft a series of emails that deliver the freebie. Then those emails follow up with interesting content over some time.
The lead nurturing sequence needs to take into account what stage of the buyer's journey that your leads are in. If you manage to address your subscribers' concerns effectively and demonstrate the value of your offer, some of them will eventually buy.
5. Cross-sell/Up-sell Sequence
With email automation, you don't need to leave money on the table. Once a subscriber has purchased a front-end offer, then your emails need to focus on getting them to enroll in some higher-priced offer, either it is a product or a service. This is called the up-sell.
Since your new customer has just confirmed that they trust your brand, you need to be ready to offer them more value. While they still have their credit card at hand, why not offer them another relevant product. This is called a cross-sell.
Either way, the cross-sell/up-sell sequence is used to sell more to a newly acquired customer. This sequence is a kind of sales sequence, but it is targeted only to people who have already purchased to get them to spend more.
6. Re-Engagement Email Workflow
As your list grows, there will be people who will stop reading your marketing emails. They become disengaged. Interests and availability change. It is just a fact of life. that you're going to have people opt-in for your list who then just become disengaged.
You want to get those people back to opening your emails and clicking on links. You don't want a lot of people to be sitting dormant. If you just keep emailing these non-responsive leads over and over again, it will actually harm your email deliverability.
So, the purpose of a re-engagement workflow is to get subscribers who have dropped off the radar to become engaged with your brand again. The purpose is to get them open your emails again and then click on something.
Watch the following video to learn more about how the re-engagement sequence works.
Here's a copy-and-paste autoresponder sequence that will help you build your re-engagement workflow for free. Click the image below to download it.
7. Onboarding Email Automation
The onboarding autoresponder sequence can be identical to the welcome sequence in the case of service-based business. If you have a SaaS, mobile app or any type of software business basically, you need a different onboarding workflow. Onboarding can be used for training programs as well or any kind of membership or subscription sites.
The goal of onboarding is to get the new free-tier subscriber or paid customer to use your app as much as possible. In most cases, if they abandon your software immediately, it's hard to get them back.
With onboarding, you want to engage your people. You want to show them your product features and how easy and beneficial it is to use these features. You want to retain them immediately and help them see the benefit of using your app frequently.
Onboarding email workflows are typically coupled with in-app onboarding prompts.
Work faster with marketing automation templates
Here is what's nice about marketing automation workflows. They're set and forget. Take these ideas that we've outlined here set them up in MailChimp or any other email service and rest assured that they'll be working for you 24/7.
Most email marketing services provide their subscribers with marketing automation templates. And some of them are also free. For example, in MailChimp it's free to use automation workflows and templated for up to 2,000 subscribers.
Automation templates will make your life easier, as the basic workflows, triggers and actions, are already in place. You only need to customize them to your liking and, of course, add the email content.
Video Transcript:
Hey, what's up. This is Jason Drohn. Welcome to today's episode of GST Daily. This is episode number 77.
We are going to be talking about marketing automation workflows and marketing automation workflows, namely the sequences that you need to have in place to sell something online.
So, that is the topic of today's presentation. For those of you who don't know who I am, my name is Jason Drohn, the creator of doneforyou.com. We specialize in three things, building offers, building sales funnels, well, creating offers, building sales funnels, and also basically automating buyer success, automating marketing automation, driving traffic, all that stuff.
So, that's pretty much what we fill our days with, is making our clients more money, and marketing automation is one of the ways we do that. So, it isn't, oftentimes, all... Well, kind of what we talked about yesterday.  Yesterday we introduced marketing automation workflows and we went through this idea that not everybody who comes to your website is going to buy. That is just what happens.
When I first started, I cannot express how confused I was, because I was like, "Well, I'm getting traffic. Why isn't that traffic converting?"
So, I'm working so hard to get one visitor. So, so hard, to get one person to show up to my website. This was 13 years ago when I had a blog and I didn't know what the fuck I was doing. I had no idea. And I think I had seven or eight visitors a day coming to the website.
Had no idea.  Then I went down the path of SEO and trying to get stuff ranked, and so on. But I remember thinking to myself, "Why doesn't one of the seven people pull out their credit card and buy something?" Well, the fact is, first of all, I didn't understand sales copy, or sales funnels, or any of that other stuff. More precisely, from a numbers standpoint, only a small percentage of people who hit your website is going to buy, or raise their hand and say, "Yes, I am more interested. I'm interested in what you do. I want more information, blah, blah, blah." So, at the end of the day, that's the reality. You might get 100 people coming to your website, you might get one buyer, you might get four buyers, you might get 12 buyers.
It all depends on the sales funnel. It depends on conversion. Depends on execution.
Depends on so many other things that we talked about from a sales standpoint. You flip that coin, and that means that 92% of people, 92 out of every 100 people who come to your website are not going to buy. So, how do you get them to enter some sort of a marketing sequence, where you can reach back out to them? And that is where marketing automation workflows comes in. So, if you're able to get their email address, you can send them marketing emails. If you're able to get their phone number, you can send them marketing text messages. If you're able to get them to opt into desktop notifications, then you can send them to push notifications through your website.
So, there are so many different ways that you can trigger marketing automation that cleans up a lot of those prospects, that help you move a lot of those people who aren't going to buy right now. They're not going to buy originally. But it helps you move them towards that buying action, through bonding, through engagement, through seeing you around, through social media. So, that is what marketing automation is.
Now, today's article, we're going to dive into seven impactful marketing automation workflows.
So, that is a mouthful. Here, I'm going to drop the link so you guys have access to it. So, here's the link. I just threw it up over there in the comments, so you can click over to it. When you go to this page, this video is actually this live stream, so you can go ahead and just subscribe there. Just hit that Subscribe button, that would be awesome.
So, I have a podcast. I started doing a Done For You podcast a while ago, and we still get quite a few visitors from it. But I retooled to this GSD Daily, because this podcast that I was doing, I was doing one a couple of times a week, but it wasn't a consistent daily thing like these are. So, I ended up retooling to the GSD Daily, and this is an old podcast. You're welcome to watch it. I don't know, I thought it was Episode 19, so that was probably recorded sometime last year. So, the camera probably sucks. I was 50 pounds heavier. So, if you want to watch it, that's cool.
So, marketing automation workloads. Now, your marketing automation workflows, what happens when somebody does something? It's like you have a trigger. So, the trigger is fired, and that can be a URL visit, it can be a form fill out, it can be somebody does something, they click on a link in an email. There's always a trigger, and then the trigger sends to a sequence, and the sequence is a set of actions. It might be an email that goes out, a text that goes out, any of that stuff. That is what marketing automation workflows is.  You need to understand the trigger, you need to understand what is going to happen because of that trigger. It's an if-then statement. If this happens, then that happens. Or if this happens, then this other thing happens.
Do you know what I mean?
So, in getting started with marketing automation one of the easiest things to do, and you probably already have a CRM, but there are, I mean, most CRMs, a lot of, not most, but CRMs are built for marketing automation, the digitally-driven ones. I mean, we build one called Access. You have ActiveCampaign, Infusionsoft, there's so many of them. And Access, we built just to be simpler and easier to use. The most important thing though, is you want to make sure to keep your contacts group together. So, when you are triggering marketing automation, let's say, somebody, your trigger is everybody who signs up for a particular email list. You should be able to see all of the people who are signed up for that list, and then act on them.
So, if you want to go through and add a tag to everybody, kicking off marketing automation workflows, then you can do that. Now, you always want to keep sales automation in mind. So, not only what goes out when somebody subscribes to a list, or when somebody visits a web page, or when somebody signs up for a lead magnet, or whatever. You also want to think, what happens when somebody buys? So, once that sale happens, then it gives you a golden opportunity to then have some great onboarding information. Send out some emails, send them a text message, "Hey, thank you so much. We're so excited to get to know you, blah, blah, blah." So, there are all kinds of automation things that can happen for your buyers too, and that buyer automation is arguably way more important than simple prospect automation.
Those buyers are usually worth six to eight times more for your business longterm.
So, nurturing leads on autopilot is also incredibly valuable. You still want to understand it. You want to put something together for the prospects. So, oftentimes your prospect emails are very nurture related. You send them to blog posts, you send them to podcasts, you send them to videos, you send them to lead magnets. You do all kinds of things to build up your value in the prospect's mind. Once they become a buyer, then the conversation changes. Now you're fulfilling on the thing that they bought, and you're also trying to ascend that relationship. You're trying to get them to, in some cases, purchase additional products or additional services, but you're trying, the relationship has changed. Now, they're already bonded with you.
They're already, they know, like, and trust you. So, now, it's, where can you take that relationship in the future? Because at the end of the day, marketing automation is, it's a very, once you set it up, you can forget about it. But you still have to understand that on the other end of every single one of those email addresses is a human being. So, even though marketing automation is very like, it's a very shotgun approach. I mean, you can set up marketing automation and you can start moving entire groups of people through this funnel, through these emails and SMS messages and stuff.
But you always want to make sure that you are still writing for that target avatar. That person, who is the recipient of all of your marketing messages.  The person who is your exact ideal customer, because that person, because everybody else, when they read, you're writing to that person, they're going to write themselves into the story. You still want to make sure that your marketing automation is geared for them.
One of the things I don't see addressed a whole lot, but it's super important is, if you:
Upsells

Cross-sells

Down-sells
You want to make sure to have those email sequences in place. If somebody buys a front end offer, but doesn't buy the upsell, then you want to make sure to have a marketing automation workflow for that upsell. And if you have four upsells, you want to do it for each of the four upsells. So, that's four additional email sequences, or workflows, that you're going to end up sending out for each of those. Another one is for re-engaging your email list. So, if somebody doesn't, so in the last probably, it's always been important, but it's been really important for the last two or three or four years.
But it's this idea of email list hygiene, or email management, because the CRMs, and you have email marketing software and stuff, they, really, really now put a premium placement on the recency. When was the last time somebody engaged with your email list? And that number is usually 90 days. So, if they haven't done anything on your email list, they haven't opened an email. They haven't been to your website. They haven't whatever, then you want to send them a re-engagement sequence, which is usually an email or two. And it tries to give, you just try to give them something for free. That might be a link to a blog post because that shows that they're engaged. This might be re-opting into another email list because that shows they're engaged.
So, if they take action on that re-engagement sequence, then they reset themselves inside your CRM. But if they don't, then they drop off.
Now, what that means is, if you have an email list of 30,000 people, and 20,000 of them have not engaged with your list in the last 90 days, then you should cut off those 20,000 people. You should delete them out of your CRM, or at the very least, not email to them. So, whenever you send out a broadcast email, you're only sending that broadcast email out to people 90 days or more recently.
Every once in a while, you can do a long one. You can send an email out to everybody, but you want to do that very sparingly, because what happens is is, when your chosen list, your 90-day list, is opening more emails, clicking more links, then you have a more engaging presence, and more of your email ends up in their inbox. That is very important. So, this re-engagement list, you want to fire off, or re-engagement workflow here, you want to fire it off about 90 days later.
And then, of course, you have marketing automation for new customers. So, you have a welcome email sequence, typically. So, if somebody signs up for your lead magnet, you deliver on the lead magnet, and then you send them a welcome or a nurture sequence.
There is a segmentation engagement sequence. So, that is, if they do this, they go one way. And if they do that, they go another. So, that's another nice, really helpful workflow that you can use. A great example is if they sign up for a webinar. If they sign up for a webinar, they are put into the webinar registrations category. If they attend, they go this way, and if they don't attend, they go this way. So, if they attend, then they go into an attendance bucket, and then they go down through the attendance bucket.
If they don't attend, then they're sent an email to re-register, or they're sent an email directly into the replay sequence, with some different email copy, addressing the fact that they didn't attend. Those two ways, typically. It's nice knowing that, although I will say that unless you were driving significant traffic, it doesn't matter a whole lot. So, unless you're getting a couple of hundred webinar registrations a day through paid traffic, it doesn't matter.
You're going to have, and now, anymore, we're doing so many webinars as on-demand webinar replays, as opposed to just-in-time scheduling, or future-dated scheduling. So, that is a moot point. Everybody who registered for the webinar gets dumped on a confirmation page. That confirmation page starts, and everybody sees it from there. We know that ends up working out pretty well.
Now, the sales automation workflow
there are so many different ways to cut this up. Of course, you have your big ones. You have you, like the workflow to promote your sales video, your video sales letter, or your long-form sales letter. But then you have all kinds of additional ones. You have ascension sequences, so promoting the upsell. You have, promoting the down-sell. There are flash sales. Your  waiting list relaunch sequence is there. So, there are all kinds of different ways that you can promote your stuff with an email sequence.
You just have to understand, you have to think about, all right, in the buyer journey, we just promoted them a piece of software for $2,000. What do they want to see from us next? We promoted a $ 2,000-lifetime version, whatever. Well, the next thing we could promote to them is the monthly version of that same software. It only makes sense. Somebody came in, they didn't take us up on the annual license, even though it was a big discount. Now, what we're going to do is, we're going to send them to a monthly marketing sequence. So, your workflow is, you sell them the big-ticket thing, and then you pull them down into, all the non-buyers, you pull down into a monthly sequence. And then that is the automation that you run.
The other one is lead nurturing.
This is very similar to the prospect stuff that we talked about upfront, or up top, I should say. But basically, lead nurturing. They come in, they sign up for this lead magnet. They buy this thing, yes, no. So, if they buy this thing, then they're off in an onboarding sequence. If they don't buy this thing, they go to a blog post, and then they're down into another sales video. So, there are lots of ways that you can cut up this nurture sequence.
But at the end of the day, you want to, first of all, bring somebody in as a lead and then sell them something. That something can be $5, $10, $20, or you can go do a webinar and sell them something that's $2,000. That's where the sales funnel, the sales flow, the funnel flow, I should say, makes a big difference.
But that is what marketing automation is entire. I've talked about upsells and cross-sells a little bit. We talked about re-engagement. Let's see, onboarding email automation. So, the onboarding stuff is everything that happens after somebody becomes a buyer. There aren't too many, there's no way that we can address this without understanding your business. Because all onboarding is a little bit different. A service onboarding is going to be call-based. You may send a couple of forms, have them fill out a couple of forms. Software onboarding is going to be sending them a couple of videos. Then putting them through, teaching them how to use the software and getting them engaged in the software.
Digital product onboarding is going to be sending them to a membership registration page and then giving them access, maybe every week, to content.
So, your onboarding is all based on the thing you're selling. What does that look like? So, yeah, and then, of course, we have inside access. We have these sequences that are all built out. So, let me just log into Access real quick, and show you how some of this works. Let's see.
So, inside Access here, if we go into our CRM and then we go down to, let's see. So, here we got some contacts, we've got a bunch of contacts. Now, the, and here we have messages. So, there are two different kinds of messages that we send inside Access, and you'll send inside your CRM, or if you use Access, then what you use here. But there is, we have our email, like an email, or we have text messages, SMS. So, down here, you can see an SMS. Nice and short, "This is an Access test, blah, blah, blah." What we do, how we set up these workflows is, if we go into the message center, or I'm sorry, we go into campaigns here, then we're just going to edit this campaign. And you'll see that we have our entry points and these are our triggers.
So, up here, we can trigger all kinds of different things.
We can trigger based tags that is applied. So, if we go in and add a group, a contact list to a tag, we can then trigger an automation sequence, or a workflow, based on that trigger. Then what we do is, we drag in our campaign material. So, if we want to send an email, we want to send a text message, then we just drag it in here. Here we have all of our emails that are saved in the system. This is just a content email, and we're going to drag this in. And then if we want to send a text message, we just drag the text message in.
Now what this means, currently, if somebody fills out any of these two forms, or gets tagged as these three tags, then they get an email, a text, an email, a text, an email. Well, of course, that doesn't work very well, because we're just going to blow somebody up. So, what we need to do is, add a delay in. So, now, they get an email, then a text, then a delay, one-day delay. And we can open this up and we can make this a three-day delay, just so we don't go too crazy.
Then from there, we go into, let's say we want to do another delay.
So, we want to send an email, a text the next day, then we have another day delay, email, email, text, email. So, that now is our campaign workflow. The workflow itself isn't all that, I mean, the workflow is important, but the copy is even more important. So, if we go into our email copy up here, then we will see all of those different types of workflows.
So, if we go to, we're going to add new, and then we're going to do just a workflow example. And that is going to be, let's see, we talked about the flash sale a little bit. Where's a flash sale? There it is, right there. So, then we're going to hit next. Then we're just going to type some stuff here, product name, what is it, blah, blah, blah.
And then, so basically, we go through and answer these questions. Your name, your product name, what is it? Is it a membership video course, digital product coaching? A few words about your product or service, the sales page, where somebody is going to go and buy it, the flash sale price. So, how much are you charging for it in the flash sale? And then the retail price. How much are you charging for it outside of the flash sale? Is it a $97 thing that now is discounted to $9? And then what are your features and the benefits.
Then we hit next, and this is our email copy. So, email copy, we have subject line is a flash sale, and then we have a body here. And then we have email copy two, subject line body, then we have email copy three, subject line body. Then we have email copy four. And email copy for literally is subject, final warning. You've got less than four hours to grab this.
This would be the email that is then made and turned in to the marketing automation workflows. So, when going back to all of these, you can then achieve some pretty complicated workflows that are very, very easy to set up, because all of it is just drag and drop. You set up your email, you set up your text messages, you figure out what triggers need to trigger that automation, and then you just make sure the copy goes where it needs to go. And then it will go, it will be live.
That is what I wanted to talk about from a marketing automation standpoint today.
If you would like to chat about putting together marketing automation workflows for your business, running traffic for your business, setting up a sales funnel, go to doneforyou.com/start, fill out the little form, book a time on our calendar, we'd be happy to put together an action plan for you. And if you have any other questions, just drop them underneath here, just drop them in the chatbox, and I'll pick them up here throughout the rest of the day. And we might even run some of often too tomorrow or the next day's live sessions, and we'll go from there. So, if you have any questions at all, let me know, go to doneforyou.com/start, book a call, and I will talk to you soon, all right? Thanks. Bye.